Our ambassador Stephen has provided a great insight on how to use Kinni with Zwift to get the most out of both apps. Read more here…
Background Information
"I've been running on Zwift since its inception in 2016. Initially, Zwift Run was only available on iOS. We all had to use footpods because smart treadmills were in their infancy.

As Zwift Run progressed, it was made available on more devices and more features were added. More people began purchasing smart treadmills and we were all excited about the prospect of Zwift enabling some of the more advanced control capabilities of these treadmills.
What is FTMS?
When you ride your bike on Zwift using a smart trainer, Zwift automatically adjusts the resistance to account for the elevation profile of whichever Zwift world you are riding in. Thus demonstrating, Zwift is perfectly capable of sending out this control data to your connected device.
Unfortunately for runners, Zwift has yet to enable this feature for smart treadmills. There are now numerous treadmills, including those in the NoblePro range, which use the FTMS protocol (Fitness Machine Service), to allow apps like Zwift and Kinni to potentially control them automatically.
Automatic speed and incline changes
One of the great advantages of treadmill running and running on Zwift, is that you can just concentrate on running. There's no need to look out for cars, tree roots, dogs, children, kerbs or low flying aircraft. You just set the treadmill and go.
However, this changes when you try to do one of the built-in workouts on Zwift. You need to manually change the speed for each interval as well as the incline, if you're doing a hillier session.
This takes away from that feeling of freedom to just run and this is where Kinni can help enormously. The team at Kinni have recognised Zwift's failure to enable FTMS treadmill control. They have essentially come to the rescue, for all those who feel they would benefit from having the treadmill automatically change speed and incline in line with the pre-programmed workout.
How does Kinni work?
Kinni allows you to run on Zwift whilst performing a pre-programmed workout in which the speed and incline is automatically adjusted for you.
This will work with a multitude of different bluetooth enabled treadmills including the respected and affordable Noble Pro range, the Elite 8.0 and the Elite 8i.
Rather than connecting your smart treadmill to Zwift directly, you connect it first to the Kinni app. Then go to the Pairing Screen in Zwift and you should see an option to connect the Kinni app or Fitcast to Zwift as a speed source AND a cadence source.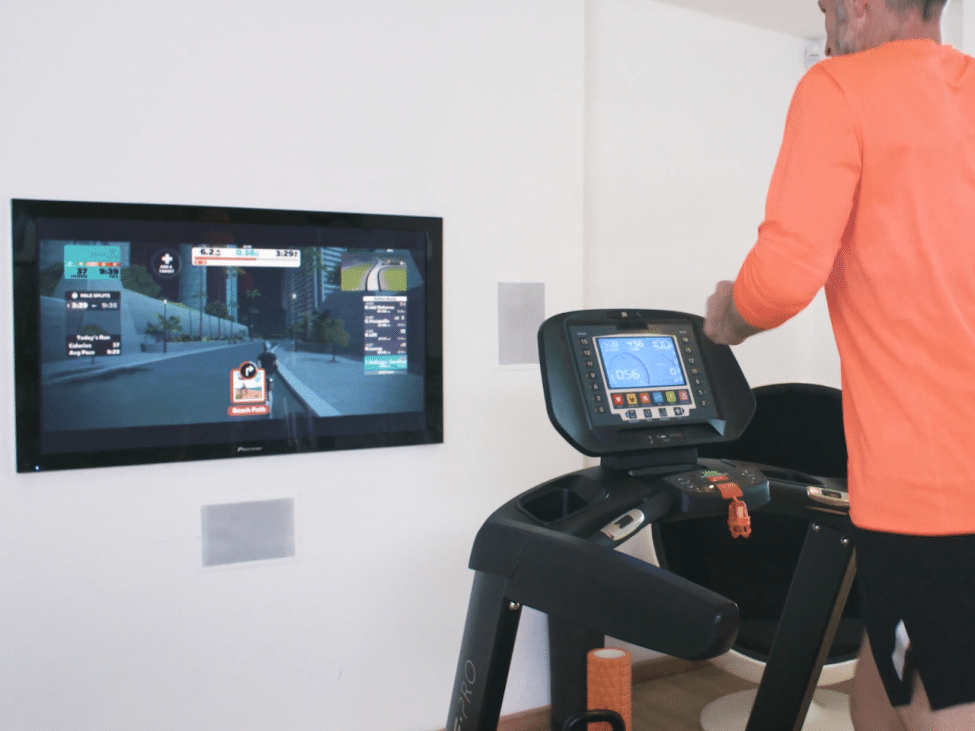 What is FitCast?
Fitcast is the part of Kinni which allows you to connect through to Zwift. You can, if you prefer, simply run your workout from the Kinni app and watch Netflix. The Kinni app obviously works independently of Zwift. However, if you enjoy the social aspect of Zwift, the gaming aspect of collecting XP and virtual goodies and the scenery, you'll need Fitcast.
Once you have chosen the workout you want from the many available in the Kinni app and you have connected your treadmill, then you need to ensure Fitcast is enabled. The Fitcast button will turn green to show it is now sending bluetooth for Zwift to pick up.
Programming your own session
Kinni has plenty of workouts for you to try, covering all manner of training needs. However, it's perfectly possible to program your own session into Kinni or customise one from the workout library and then run it, whilst running on Zwift.
Rather than a tough interval session, you may simply want to run for 10 kilometres and gradually increase the pace or incline each kilometre. Or you may want to run for 10 minutes slowly, then 20 minutes fast, then back to 10 minutes slow again. It's very easy to program simple sessions like this into Kinni.
Now you're free to interact with Zwift without having to remember when to increase the speed or change the incline. Kinni will manage all that for you whilst you chat to friends, watch the scenery or concentrate on your running form.
Matching Zwift's in-built workouts
Sometimes you might want to run a group workout on Zwift with your friends, or there might be a specific workout in Zwift which you really like. 
The hack for this is to recreate the workout within Kinni and then run it in sync with the workout on Zwift. I do this all the time with my 'Film My Run 500 with Noble Pro' session. Every Tuesday and Thursday I lead a Noble Pro sponsored workout session on Zwift, which involves setting the treadmill to 12% incline and then gradually increasing the speed as we climb 500 metres elevation gain.
We have a small but dedicated following of runners who join me most weeks to run this session, which I live stream on the Zwift Run Channel on YouTube. The workout runs on Zwift, and normally I would have to manually implement the speed changes in game. But I have recreated the workout in Kinni and I run it alongside the in-game workout, so I can concentrate on managing the live stream, chatting to and encouraging runners, whilst Kinni manages the speed changes. It's one less thing for me to worry about. 
What's not to love?
The world is full of imperfection and whilst many of us would all love Zwift to implement FTMS control for smart treadmills, right now there are no signs that's going to happen. But thanks to Kinni, which does a great job of enabling the auto incline, auto speed feature, we have something which works very well and provides a most satisfactory solution.
The Kinni team will no doubt continue to develop and improve the app and its feature set over time and I'm very much looking forward to seeing what can be achieved in the coming months."