International runners return to the Tokyo Marathon in 2023 – The 16th edition of the Tokyo Marathon which took place on Sunday 5 March 2023 welcomed the full capacity of 38,000 runners for the first time in four years.
Background
Although the Tokyo Marathon was founded back in 2007 it only became a World Marathon Major (WMM) event in 2013 joining the existing five of Boston, London, New York, Berlin and Chicago.
Due to the COVID-19 pandemic only elite runners were invited to the 2020 event and all other participants were given a deferral to the following year. 
In October 2020, the 2021 Tokyo Marathon was postponed from its usual date in March to October and then in September 2021, the event was postponed again, with the new date being 6 March 2022. As a consequence of this postponement the Tokyo Marathon was the only one of the World Marathon Majors that did not happen in 2021.
All overseas runners were barred from competing in 2022, with their entries automatically transferred to 2023. To give some context to the demand for places, there were over 330,000 applications for the 2019 event!
In practice, this meant that no 'non-elite' runners had taken part in the Tokyo Marathon since March 2019. The anticipation and expectation was off the scale! In addition to this, there were over 3,000 participants aiming to complete their Abbott WMM journey and be part of a Guinness World Records title for 'the most people to earn a Six Star medal at a single marathon'.
This was my 5th WMM event and although my training started off really well last November, I missed five weeks of training due to illness. Thankfully I managed to get back on track, built up my stamina with some intervals on my NoblePro treadmill and ticked three long runs, up to 32km, off my original plan. 
When I flew off to Tokyo on Wednesday 1 March I felt in a good place. I was determined to enjoy the whole experience, get my medal and not stress too much about my finish time and the dreaded 'cut off' times/markers in Tokyo.
For anyone who isn't aware, Tokyo Marathon publishes a list of nine cut off markers and corresponding times and if you don't make them you are literally removed from the race, put on a sweeper bus and taken to the finishing area (see below).  These cutoffs are not at an equal pace, with the first two requiring a faster pace and then slacking off for the rest. 
Distance markers are placed at every kilometre but miles are marked at the first mile and every five miles thereafter only. Confusing, hey!
The cut off times are set from the 'gun time' meaning the time the actual race starts for the elite runners. In Tokyo, that's 9:10am. For the slower runners back in corrals L, J and K everything depends on how quickly you can get over that start line. 
Entry in Japan
Entry into Japan was relatively straightforward and although most restrictions were dropped in October 2022 there was still a requirement for proof of three vaccinations or a negative PCR test. This documentation could be uploaded, pre-travel, to the 'Visit Japan' website, together with your personal details/travel information. This then enabled you to screenshot three QR codes and subsequently enter Japan and navigate Immigration and Customs quite easily. 
The pre-race requirements for the marathon itself were a little more complicated! 
Pre-race requirements
A Global Health Management App had to be downloaded on your phone, information/photograph uploaded and then a daily temperature reading recorded starting from Sunday 26 February. This App would need to be produced at both the Expo and the race entrance gate itself to allow entry. In addition, two antigen tests would be provided at the Expo with the results needed to be uploaded before the race. 
The main concern here was the availability of WiFi at the the Expo and the race entrance gate and the need to have your Smartphone with you at all times. Many runners opted for either local SIM cards which could be collected at the airport or delivered to your hotel. Some people opted for an eSim, which could be uploaded to your UK Smartphone, subject to your phone model and network provider being compatible. I just used my UK Smartphone and ensured that Data Roaming was turned off at all times other than when I was in the hotel. 
The official Runner Handbook which was distributed on 17 February also highlighted a number of aspects that were different to what the majority of runners were used to! Whilst this obviously doesn't make them wrong, they did cause some concern:
Absolutely no water bottles, plastic bottles, flasks, and other such containers are allowed into the starting area…full or empty.
Smartphone to be carried with you at all times. 
The disposal of any garments at the start or on the course is not permitted. In addition, no tour operator participants (that's me!) have access to the bag drop facility.
All trash must be taken with you – there are no trash cans available in the starting area. 
To prevent congestion, aid station tables will be assigned according to the last digit of your bib number…items should be taken from the designated table only.
The expo
My entry into Japan was thankfully quite smooth and metro access into the city was very straightforward made easier by the fact that I had downloaded the SUICO local payment card direct to my Apple wallet. I headed out to the Expo on the Thursday afternoon and although there was no queue to enter the Expo Hall (as expected Friday and Saturday were busy!), there was a queue for the checking of the Health Management App data. This involved verification of runner ID, correct registration of daily body temperature and physical condition. To enable verification as a runner at the entrance gates on race day, the face photo registered on the App was now locked. 
Thankfully a newly designated WiFi location worked without issue but this process was new to everyone and did cause a bit of anxiety!
Next was the very long queue to pick up your bib number and the fact that booths 1 – 15 (for local runners) had no queues at all but booths 16 – 21 designated for international runners had a queue as long as the Expo Hall itself, did make this a rather frustrating experience. 
As a World Marathon Major Expo I thought that it was rather underwhelming and I came away with no purchases although I was very happy that I had made it this far and actually had my race number!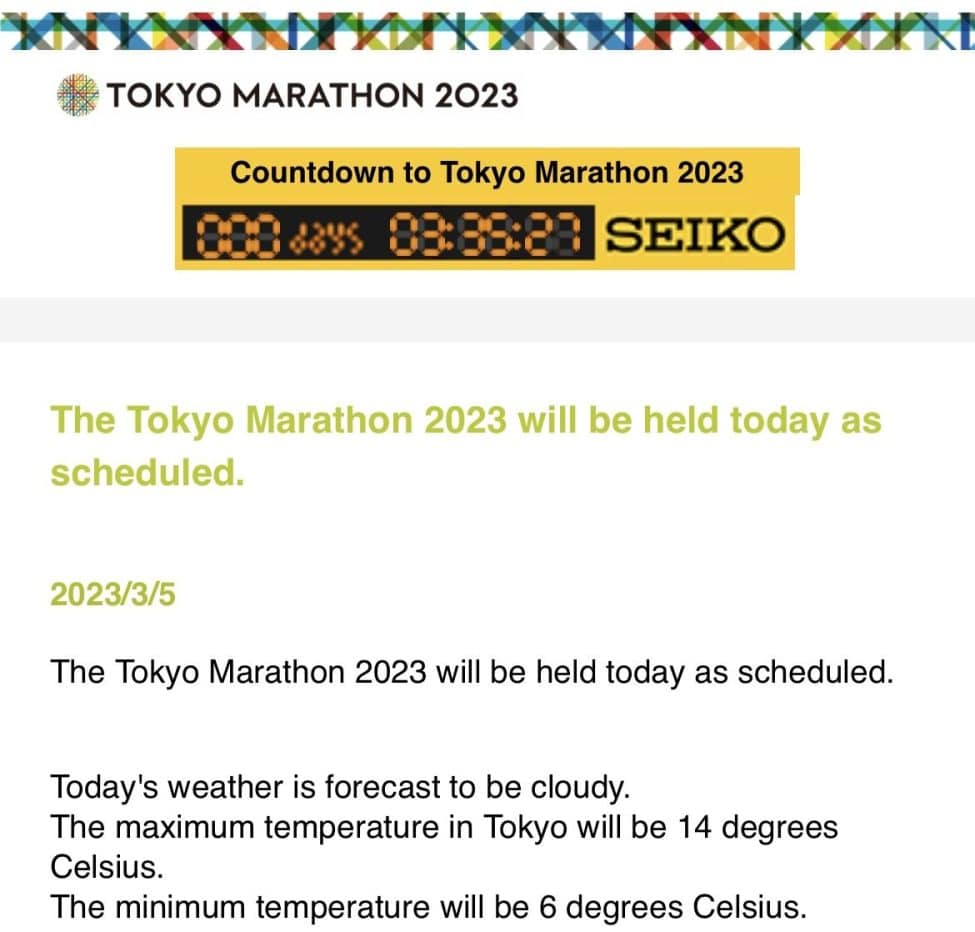 Marathon day
On race day, there was an extra early start due to something rather new to us UK runners – the Final Go / No-Go Announcement.
Because of the threat of earthquakes in Japan there would be a final decision at 5.00am local time on whether the race would be held or cancelled. This decision would be posted on the official Tokyo Marathon website.
So, the first thing that everyone did on Sunday morning was check their WhatsApp messages or the marathon website…thankfully, it was a 'GO'. 
After a 6.30am departure from the hotel and about a 20 minute coach journey I was dropped off near to the starting area where there were lots of race volunteers with signs giving directions to each entrance gate. It was a cold morning and thankfully the entrance to my gate was via an underpass so I was able to keep warm. The Health Management App on your Smartphone was used again to verify runners' ID and temperature (with the additional antigen tests having also been recorded). Luckily, it was an extremely quick process of just scanning a QR code that needed to turn your phone screen from red to green, thankfully mine did.
You really could see the relief on runners' faces as they passed through here…you were going to run the Tokyo Marathon!
As I didn't have the bag drop option I went straight to my corral, with a marathon PB of 4:54:12 hrs I was back in Corral H and it was really important to be near the front to give me more time to avoid the cut off markers along the route that I mentioned earlier. In all honesty, this shouldn't be a problem but it was just there at the back of my mind!
Originally the race organisers had advised that there would be no facility to discard additional clothing but after many complaints and discussions this rule was relaxed and bins were provided leading up to the start line. It was cloudy with a temperature of 8.5 degrees celsius, so quite a chilly morning at 7.45am (with over an hour to wait). Having an additional layer of clothing was most welcome. 
The issue with water bottles/hydration packs had not, however, been resolved so the original rules and runners were still not permitted to bring any type of liquid holder into the starting corrals. Runners had to rely solely on the aid stations, both water and Pocari Sweat (the Japanese version of Gatorade/Lucozade) were provided. I had sampled Pocari Sweat in the few days leading up to the marathon and found it quite palatable with no adverse effect on my stomach so this was going to be my preferred option during the race.
The course
The race started on schedule at 9:10am. The corrals in front of mine started moving forward very quickly…there were no specific wave times, everyone just kept moving forward in turn just like we used to do pre-COVID. The time that I crossed that start line was vitally important as I wanted to maximise the amount of time that I had available before the first two cut off markers at 4.9km and 11.1km. 
I discarded my outer layers in the bins provided, got my Garmin ready to go and moved forward with the crowd towards the start line. Despite feeling quite cold I was more excited than nervous now and I crossed the line a few seconds after 9:30am. 
Some runners describe the course as flat, others using the term 'rolling', which is probably a better description. The first 5km was certainly on more of a downhill which was a great way to start a race but there were definitely some slight uphills too along the way!
Whilst I made sure that I didn't head off too fast I completed that first 11.1km well within the cut off times…I was cross with myself for having stressed so much and for so long about this whole 'cut off' issue!
I had seen from the route map that there were a number of 'out and backs' on the course. I'm not a big fan but in the early stages I kept to the inside and did manage to spot some of the faster runners that I knew heading back.  The worst one was definitely towards the end at 34km…I could see runners on the other side of the road taking the last turn towards the Finish Line with a clear '1KM TO GO' sign visible and I still had to complete the 'out and back' of 7km…that was mentally really tough.
When I had turned back and eventually reached that final turn at 41km and then saw the '1KM TO GO' sign on my side of the road it was total joy. That last kilometre was along a paved stone surface of Marunouchi Naka-Dori Avenue, a high end retail district and it was lined with supporters cheering us all on. I was nearing the end but conscious of the very different surface underfoot and silently willed myself to stay on my feet! 
I hit the final corner, a left turn and suddenly there was the Finish Line just a few hundred metres away.
I crossed the line in 4:58:02 hrs, just short of four minutes outside my PB from Berlin in 2021. With no 'blue line' showing the most direct line to follow, the distance measured 42.86km. I heard many similar stories re the distance!
Sadly, like a lot of events post COVID, the runners are moved on fairly quickly and there were no volunteers at the Finish Line to present you with your medal. Runners were handed a foil blanket and then had to walk some distance before picking up their medal from a table.
I had completed the Tokyo Marathon, my fifth World Marathon Major and my ASICS TOKYO kit that I had bought back in 2021 in the hope that I would one day run this race had had its special day!
Just over 36,500 runners completed the 2023 Tokyo Marathon. 
3033 runners earned their Six Star Finishers Medal smashing the previous highest total set in Tokyo in 2019 of 732 and establishing the first official World Record for the Six Star Programme. 
So, after starting on this journey in London in April 2017 (although I knew nothing about the World Marathon Majors until a while later), there's just one event left me for to complete. 
I have everything firmly crossed for a Boston place next April. I hope you follow my journey!