What is it you love about running?
I love that running gives me a goal every single day. In work and daily life challenges/projects are constantly evolving and ongoing and it's lovely to have something that I can tick off each day.
Some days it's great to have a real challenge. In a world where multitasking is the norm, it's brilliant to have to really focus on one thing as I try to hit certain times on training sessions.  Equally, on other days it is lovely to have time to think and take a moment of calm on an easy run. I often pray on my easy runs as it's a place where I don't get distracted. I love that I've been given a mind that enjoys running and am lucky enough to have a body that can do it (to some level!).
The community that running brings is also fantastic. There is normally a runner in any group that you find yourself in. And you always have a bit of a connection. I have found running clubs and crews to be a wonderful 'mish-mash' of people, all who happily knock around together and support each other. Coaches are also incredibly generous with their time. In countless clubs around the country people are there on Tuesday nights, setting sessions and developing runners of all stages and talents, usually for no monetary reward!
I don't just love 'doing' running either – it's a great sport to follow and I wish more people would do that. In America, people get behind varsity track teams or long distance training groups. That's happening a little in the UK/Europe with the likes of On Athletic Europe or New Balance Manchester but there's a lot of work to be done.
What does a normal running week look like for you?
At the moment I'm in marathon training. My coach normally gives me my plan for the week on a Sunday, so that he can look at how the previous week has gone and plan accordingly. Mondays are usually an easy heart rate based run – I use my NoblePro treadmill a lot for these as I like to do them really early before my little boy wakes – that way I can make sure I'm not rushing to get out and fit everything in later. On Tuesday or Wednesday I might do something with shorter faster intervals  – perhaps a double run day. Thursday is either a rest or recovery run. 
Friday/Sat/Sun will usually involve either a big long run with long blocks in it or perhaps two smaller but harder runs. 
I really love running big mileage so I find that having a coach helps be not just be piling on junk miles all the time. Often I can be found running Leicester Road Running League races as I join my Huncote Harriers team. Last year, we won the cup and we intend to do the same this year. 
As well as my own training, I review shoes and kit for The Run Testers and sometimes write for fastrunning.com. I can be found in various pairs of shoes, putting them through their paces or at a computer scouring the week's results.
What are your goals for the year?
Last year I turned 40 and set myself a challenge to re-write all my PBs. I managed to do that for my 5k and Half Marathon but still have 10K and Marathon to go this year. 
Which runners do you love to follow?
There are so many inspiring women out there that we should all get behind and follow. Hannah Irwin would be an obvious one with her talent and also her approach to recovering from injury. I think Jess Judd goes under the radar way too much – she's a massively talented athlete acros a huge range of distances. Obviously Des Linden is brilliant to follow because she shares her story so well. 
In the UK, I think George Schweining is a really interesting runner as she runs to heart-rate almost all the time and barely ever runs race pace before a marathon and then knocks out a 2:26!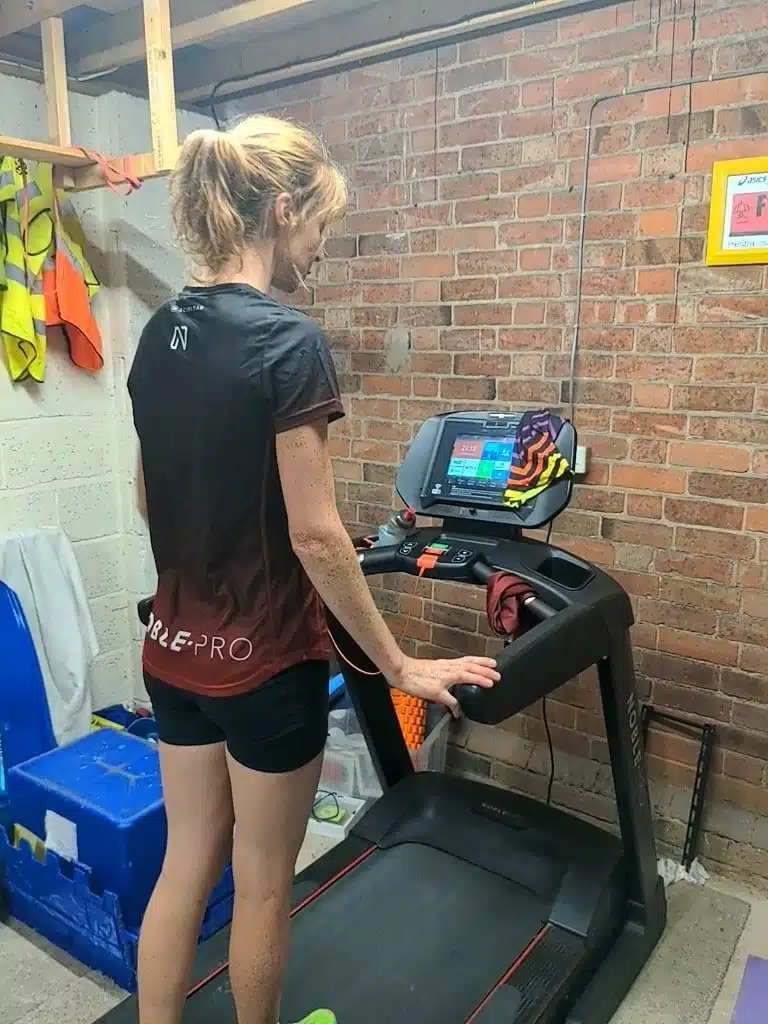 Clara Evans is sneaking in relatively unnoticed and I also think Sonia Samuels is brilliant as she has come back as a V40 to run only 11s off her PB last year. Annabel Gummow has been working away quietly in the background too and is due to show her true form soon. Then of course Jess Piasecki, Steph Davies, Charlotte Purdue all have so much to give. There are some great really young (!) marathoners too. 
Local to me in the midlands, Emma Styles is likely to run 2:35 at Manchester Marathon and Gemma Steel has come back to amazing form to come second in the National XC Championships and is a prime example of what happens when you focus on the love of the sport. British long distance women's running is in a great place. 
However, it's not just elite runners we should watch. There are so many women runners who are really training smart and to their best and are doing exciting things. If you want a list of people to follow on instagram, just ask me over at @blandontherun  
Where do you get your running-geek fix?
I read fastrunning.com, Christians in Sport's Game-Day mailout, Athletics Weekly, Like The Wind magazine, Guardian's athletics coverage and the Telegraph women's sport supplement (mainly to support it because it's unusual). Podcast-wise, I love Nobody Asked Us with Des & Kara, Run it Three Ways, On Coaching with Magnuss and Marcus, A Runners Life, Ali on the Run, Run Testers Podcast, The Real Science of Sport podcast I could go on! 
Also, I always go to watch the Night of 10K PBs every year in Highgate, London. It's the most amazing event and so entertaining even if you're not into 'London'. It's like watching human greyhound racing, with a bar and firebreathers and top athletes. Oh, and it's free! 
Which one thing would you change about your running?
I wish I had more time! So that I didn't spend long-run time away from my family and also to support my club and go training with them. With a full-time job and family, running has to take its rightful place and so I often can't be there as much as I'd like. I wish I could take other runners out and do sessions with them to encourage them that they can try them. 
I think Kinni is a great tool for that though if people are worried about trying hard efforts in a group – you can programme in a session and try it out in the secrecy of your own garage! 
I also wish I had a better running gait. I've got a very 'shuffly' style and my leg flicks out. It's too late to fix it for me really as it would probably do more damage than good, but I do find running on a treadmill regularly gives me time to focus on form. 
Do you prefer training, racing or running just for fun?
I don't think they are mutually exclusive. Obviously in any marathon hard training block there are times that it is a grind but I wouldn't do it if I didn't love it. It's too much of a commitment for that. 
I think often women who start running later in life are brought through couch to 5k and then the implication is 'well done, now you can run for fun'. I think that there's a real untapped opportunity in encouraging those women onwards and showing the joy of further structured training and how much they can achieve. It's not bad to be competitive – you can still cheer each other on and want to run faster than each other at the same time.