This page contains the instructions to replace the incline motor [56] for the NoblePro Elite Series (NPE78848E8is, NPE78844E8i, NPE78847E8s, NPE78843E8.0).
WARNING: Mains voltage can be dangerous. Ensure the needed safety precautions are taken before undertaking these instructions.
What will I need?
To undertake the replacement you will need:
1. Replacement incline motor.
2. 2 x 17mm spanner.
Disconnect the incline motor
1. Turn off the treadmill by the wall and unplug the cable from the treadmill power socket and wait 20 mins for the capacitors to discharge.
2. Remove the motor cover by removing the 4 retaining screws.
Note: At this point, it is always good to take a photo of the connections as a point of reference.
3. Remove the following connectors on the motor control board:
> Incline AC1
> Incline AC2
> Incline COM
> Incline Control
Note: The connectors have an anti-vibrate clip built in which might need slight force to disconnect during removal.
Top Tip: The use of a screwdriver to pry the connectors off makes it easier.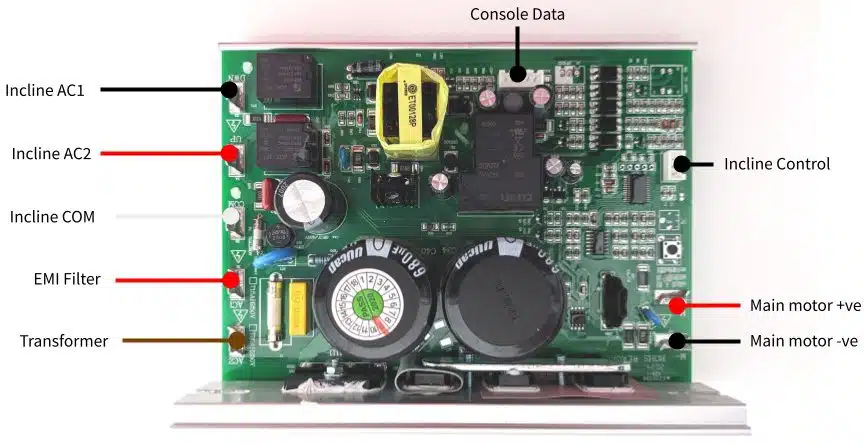 Remove the incline motor
4. Place the treadmill on in the storage position then place it on its side. This is to enable access to the incline motor bottom fixtures.
5. Remove the 17mm bolt [120].
5. Remove the 17mm bolt [57] in side the motor area.
Reinstallation
The installation process of the new incline motor is just the reverse of the removal process defined in steps 1-5.
Verify and closing
The treadmill should now start up ready for verification and testing. If the screen has not come on please ensure the safety key is in place or use the user manual to troubleshoot.
6. With the treadmill on push the start button.
7. Verify the treadmill running belt is moving in the correct direction.
8. Verify the incline goes up and down when using the up and down control buttons.
9. Verify the stop button and emergency stop works.
10. Verification is now complete.
11. The installation is now complete.
Troubleshooting
Incline is not functioning > The main motor connectors are incorrect and need to be swapped. Repeat step 3
Treadmill is not turning on > Ensure the power cable is plugged in, the power socket is on and the wall plug is on. If there are no LEDs showing on the motor controller during step 8, this indicates there is no electricity at the motor control board. Check all fuses (plugs and power sockets), circuit breakers and ensure the motor controller is wired as per step 6. If the issue persists use the user's manual to troubleshoot.