Zwift "run" is a free online and mobile platform, for both iOS and Android, that allows you to run virtual routes with your own created avatar. You can explore the virtual world, race your friends, create meet-ups, complete daily challenges, and run Zwift workouts.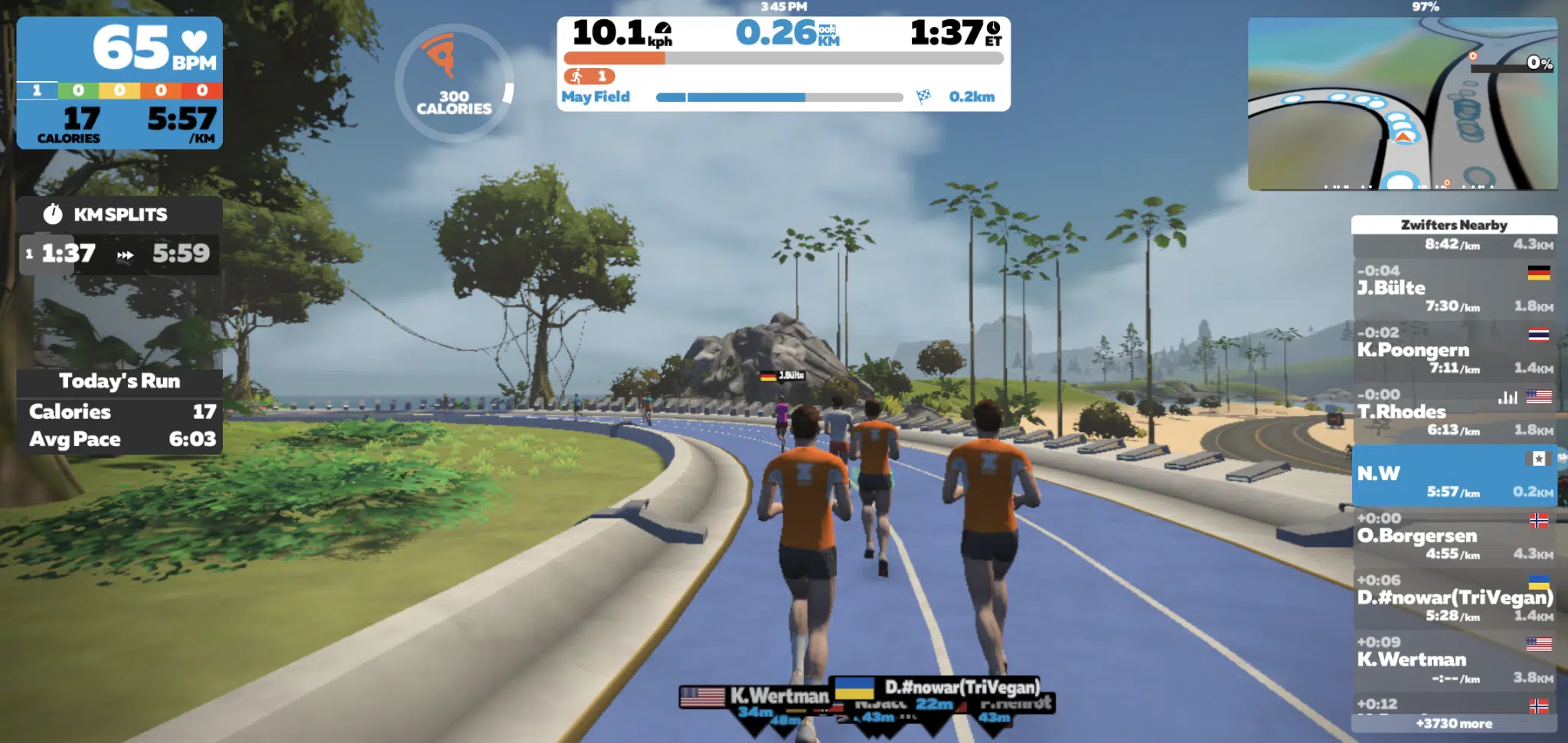 It's really easy to use, and is a great running companion for your NoblePro E8i or E8.0.
What can Zwift control and why?
The Zwift "run" app uses FTMS to communicate with your treadmill. Zwift is able to read the speed, and heart rate data from the treadmill (not the incline), and Zwift does not (officially) control the treadmill at all. You can read more about Zwift's limitations here.
There are workouts and training plans to choose from in the Zwift app, but they will not adjust your treadmill speed/incline for you. You will need to do this manually as you run. However, you cannot currently create your own workouts on the run option of Zwift (but, you can with apps like Kinni).
Therefore, Zwift is best used alongside your NoblePro treadmill as an activity tracker, and a fun and motivational virtual environment.
Please note: If you want to create your own specific training workout and let the treadmill control the pace and distance, we recommend Kinni.
Kinni also has the ability to connect multiple apps at once with a feature called FitCast! Check it out!

Please note:
Zwift cannot control the speed or incline on your treadmill – this is a limitation of the Zwift app, and is not a limitation of the NoblePro treadmill.
How do Zwift and NoblePro treadmills work together?
On the Zwift platform, you can run in a variety of different virtual worlds once you have connected your NoblePro treadmill to your chosen app using Bluetooth from the comfort of your own home. There are a bunch of options to choose from when you decide where you want to explore:
Workout – Different types of workouts, races, and community challenges
Plans – Follow a plan to help you on your way to reaching your goals
Just Run – Run however and wherever you like!
Zwift vs Strava/TrainingPeaks
Zwift will track your activities in an activity feed, and keep an eye on your friends too! You can view past activities on the activity feed on your Desktop, or join Live Zwifters on the mobile app to run alongside them, chat, and generally see what they're up to. 
This is similar to the activity feed on Strava's platform, and isn't as organised as the training calendar you receive on TrainingPeaks.
On Zwift, you will always be able to view the data from your workout; such as duration, distance, speed, power, and more on your own feed. However, you can decide whether this is made public or private after completing each activity.
However, if you want to share your data between platforms for consistency, you can do this easily through the desktop version of Zwift. When you have completed your activity, Zwift will automatically export the data to the connected apps. 
Zwift vs Kinomap vs Rouvy
Zwift, Rouvy, and Kinomap can appear quite similar as they all involve running in a virtual online world! The main differences are that Zwift has hundreds of virtual routes compared to Rouvy and Kinomap, who are both a bit younger and have fewer destinations.
Zwift allows you to run in a virtual world with either fantasy routes, or animated tours of popular places across the world such as, New York, and London!
Kinomap and Rouvy use real-world GPS videos. 
You can also create your own avatar on Zwift (similarly to Rouvy). When you explore the virtual routes you can envisage that you are really there with the panoramic views and other runners/cyclists! 
Zwift has some great features to keep you motivated with numerous badges to collect, routes to complete and achievements to aim for. You can upgrade your avatar's clothes, shoes and accessories by collecting points. The more you run, the more points you receive!
Need further Zwift support?
Please head to Zwift's support page for some informative articles to hopefully solve any issues you may have.