BitGym is an online and mobile platform, for both iOS and Android that allows you to run real-world tours from the comfort of your own home.
**IMPORTANT: Updating your NoblePro Firmware**
Before you can use and connect to BitGym successfully, you will need to update the Bluetooth chip firmware on your treadmill.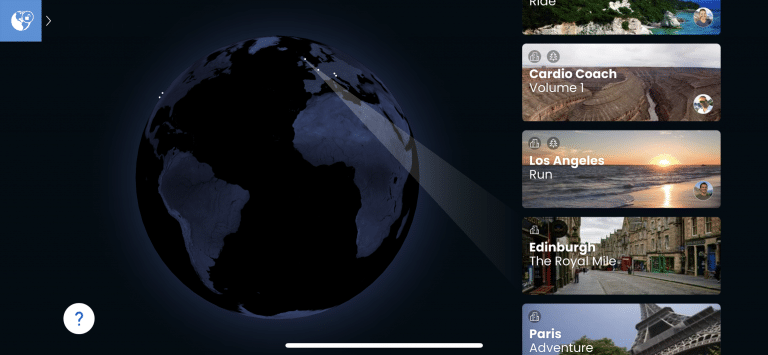 Before you can use BitGym you need to sign up and make an account and choose your membership option. There is a free option with limited tours that you are able to run both online and offline with your treadmill. However, the paid membership option has many more features and tours for you to make use of.
A really cool feature of BitGym is when you are exploring real-world routes in various locations, the platform shares interesting and fun facts along the way about your chosen tour! Great for physical fitness but also general knowledge 😉
What can BitGym control and why?
We suggest BitGym is best used alongside the treadmill as an activity tracker and a fun, factual and motivational virtual environment. BitGym has created some easy to follow instructions on how to connect to your treadmill here.
BitGym is able to read the speed, distance, duration, steps per minute and heart rate data from the treadmill (not the actual incline). BitGym does not (officially) control the treadmill at all. 
Please note:
BitGym cannot control the speed or incline on your treadmill for safety reasons. 
How does BitGym and your NoblePro treadmill work together?
BitGym can use the camera on your phone/tablet to track your exercise motion and will adjust the frame rate in the videos accordingly. For example, if you are doing a fast interval session, you can have your surroundings moving fast too so it is more realistic.
There are different workouts available via different tours with a BitGym coach and voice prompts but you cannot create your own workout in BitGym. If you are wanting to do a more specific training workout, we recommend Kinni,  Zwift or Kinomap as these platforms provide an enhanced workout option.
Also, Kinni will allow you to run your own workout and control the treadmill hands-free through a feature called FitCast! Check it out 😉
BitGym vs Kinomap vs Zwift
BitGym, Zwift and Kinomap can appear quite similar as they all involve running in an online world with many worlds to choose from!
Kinomap and BitGym both use real-world videos instead of Zwift's fantasy worlds. 
However, you cannot create your own avatar on BitGym (unlike Kinomap and Zwift). Nonetheless, it isn't hard to envisage the real-world routes you can envisage very easily that you are really there! Kinomap does not allow avatar creation.
Share your BitGym workout
Once you have completed your workout, you can share an image of your workout data with your friends to your favourite social media channels! You can see the data from your workout such as duration, calories, distance, heart rate and SPM (steps per minute).
Need further BitGym support?
Please head to BitGym's support page to submit a request. There is also many informative support articles to hopefully solve any other issues you may have.